IN-LLT-C Submersible Level Transmitter - Water Applications:
Product Specifications:
Download Datasheet

Download Installation Guide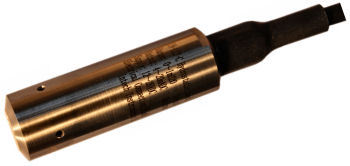 Description:
The Intech IN-LLT-C hydrostatic level transmitter is a fully sealed submersible pressure instrument. It is designed for liquid level measurement. The sensor and electronics are housed within a stainless steel IP68 housing and provide end users with an Industrial 4~20mA loop powered signal.
The transducer diaphragm is mechanically protected by a steel cap that is designed to allow water / product free access to the diaphragm perform the measurement. Signal cable is sealed to the housing and contains the atmospheric pressure reference tube. IN-LLT-C units are designed for long term submersible operation.
The IN-LLT-C piezo-resistive level transmitter has advantages of small size, light weight and long-term stability; it can be applied to measure and control in the petrochemical, medical, metallurgy, power station, mines, city water supply, drainage and hydrology survey and various other industries.
Features:
Integrated construction, unnecessary to do outer adjustment
Sensor housing protection IP68
Cost-efficient, high reliability and stability
RoHS approved
Ordering Information: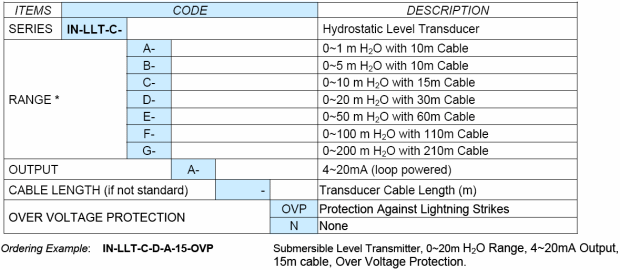 | | |
| --- | --- |
| LPN-OVP (Rev 1) | We strongly recommend that an overvoltage protection device is used with the IN-LLT-C if long runs of cable are involved in the installation; to protect against potential Lightning strike or earth potential rises. |