LPI-LCD-5 - Loop Powered Indicator:
Product Specifications: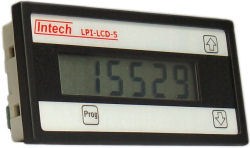 Description:
This compact 5-digit indicator has effortless front-panel programming and simple, step-by-step calibration procedures. It has a high resolution (50,000 count) and is easily software scalable to any engineering unit of measurement. The short-depth case means that you can mount it in confined spaces.
Ordering Information:
| | |
| --- | --- |
| LPI-LCD-5 | Programmable, panel mount, loop powered Indicator. IP65 |
| Cover | Option: Splash proof lockable security cover. IP65 |
Specifications:
| | |
| --- | --- |
| Input configuration: | Series connection to 4~20mA DC current loop. 3.4V drop plus 20Ω (equivalent to 3.9V at 20mA). |
| Full scale ranges: | Standard meter is adjustable to any display span between maximum readings of -19,999 and +30,000, max resolution (50,000 counts), from any signal input span between 3.5mA and 27.5mA. |
| Accuracy: | ±0.02% of reading plus 2 digits. |
| Display: | Liquid crystal display (LCD) 0.5". |
| Decimal point: | User programmable to six positions. |
| Power supply: | Designed to be powered from the 4~20mA current loop input signal. Min input 3.5mA, max continuous input 100mA. 3.4V drop plus 20Ω (equivalent to 3.9V at 20mA). Typically load is 200Ω. |
| Operating temperature: | -10°C to +50°C. |
| Relative humidity: | 95% (non-condensing). |
| Case dimensions: | 1/8 DIN. Bezel:96mmx48mm (3.7"x1.89"). Depth behind bezel: 15mm (0.59") plus 16.4mm (0.65") for right-angled connector. |