OmniLog - Software for Data Loggers:
Product Specifications:
Download Omni7 (Beta) Software

Download Original OmniLog Software

View OmniLog Online Help File
Note: This help file is also available from the 'Help' menu of OmniLog!
---
Using OmniLog with Windows 7 / Vista®:

Download info sheet on using Original OmniLog with Windows 7 / Vista
Note: Please try using the Omni7 Beta software instead from the link above when using Windows 7 / Vista.
---
OmniLog Data Management Program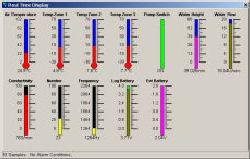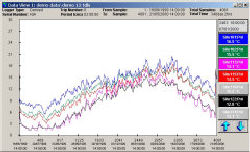 Overview:
The OmniLog Data Management software is an application for reading, displaying, analysing, organising and exporting data that has been downloaded from TruTrack data loggers (all types, including older models).
It includes all the features of the original Data Logger Control Program with many additional Data Management Features.
Data can be read from data loggers or retrieved from previously saved data files. A connected data logger can be configured,calibrated, started, read and stopped by this application.
Data retrieved from data loggers or weather stations and previously saved data files can be viewed and printed in a values spread sheet list, as a graph or as a statistics report. These values, graphs and statistics can be displayed and printed for all data or from a user selected block of data.
Periodic reports in Hourly, Daily, Weekly and Monthly intervals can be viewed and printed. Datasets from different loggers can be combined and the full range of viewing and printing options are available for these combined datasets.
Data can also be exported in a large range of industry standard formats including Microsoft Excel, Lotus 123, Lotus Symphony, DIF, Microsoft Multiplan, Symbolic Link Format, CSV, HTML and Space delimited Text Format.
Connection Methods for using data loggers with OmniLog.
OmniLog FAQ - Frequently Asked Questions.

---
Realtime read from logger to a web page:
---
OmniLog Flow Wizard GP-HR Application Notes:
Download Flow Wizard Application Notes