2100-AO - Analogue Output Multiplexer for PLC; and Remote Station:
Product Specifications:
Download Installation Guide

Download Configuration Software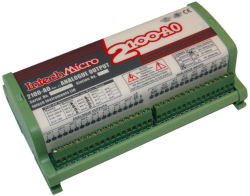 Features:
Cost Effective PLC Analogue Output Expansion.
8 AO Require Only 7 PLC Digital Outputs.
Each Additional 2100-AO Used Requires Only 1 Extra PLC Digital Output.
4, 8, or 12 bit AO Resolution Selectable.
BCD or Clock/Reset AO Channel Selectable.
8 Analogue Outputs: mA or V.
8 Analogue Inputs: mA or V.
8 PID on Board Controllers - Future Development.
12 Bit Resolution.
12 Digitally Isolated, Optocoupler Inputs.
4 Digital Inputs:

State or Count.
Speeds up to 50Hz.

2 Digital, Mains Isolated, Relay Outputs.
1 AI can be Demultiplexed to 8 AO.
8 AI can be Multiplexed to 1 AO.
RS422/RS485 Up to 1200m.
RS232 Cost Effective Radio Installation.
RS232 Cost Effective PC or PLC AI or AO Expansion.
Selectable Baud Rates.
Easy Programming Via MicroScan Maps.
Programmable Station Number.
Programmable Relay States - NO or NC.
Comms Failure Time-out Using Relay 2.
Comms TXE and TX Delay Programming.
Programming Information Retained on Power Down.
Universal AC/DC Power Supply.
Easy to Install.
Compact DIN Rail Mount Enclosure.
Description:
This station provides economical analogue output expansion for PLC's plus is also designed for use as a Remote Station.
The 8 analogue outputs are factory configurable as 4~20mA, 0~20mA, 0~10Vdc, 2~10Vdc.
PLC Application:
The 2100-AO is driven by the PLC to determine the output channel and the output level. Here are 2 options for connecting between the PLC and 2100-AO.
Option 1: Using one analogue output from the PLC plus 4 on/off outputs.
Option 2: Using 7 on/off outputs from the PLC (no analogue output required).
For further details, please refer to the Installation Guide.
Ordering Information:
| | |
| --- | --- |
| 2100-AO-X | Standard Unit: All Analogue Inputs and Outputs 4~20mA. RS485 Comms, 85~264Vac/dc Power Supply. |


Note 1: The RS232 Comms. version comes complete with a RS232 kit, required for connecting the
2100-AO to a PC, etc. The kit contains: 1 x 5m RS232 cable; (2, 10 & 15m available.) 1 x 9pin D type (25pin D type available).
Note 2: The 2100-AO is factory set to RS232 or RS422/485. The 2100-AO-X is field selectable for RS422 or RS485, and H or M power supply.
Note 3: The Analogue Output and Analogue Input ranges are factory set. They cannot be reconfigured in the field.
Note 4: Power supply 'H' is field selectable for 'M'; and 'M' for 'H'. Power supply 'L' must be ordered separately.
Connections for the 2100-AO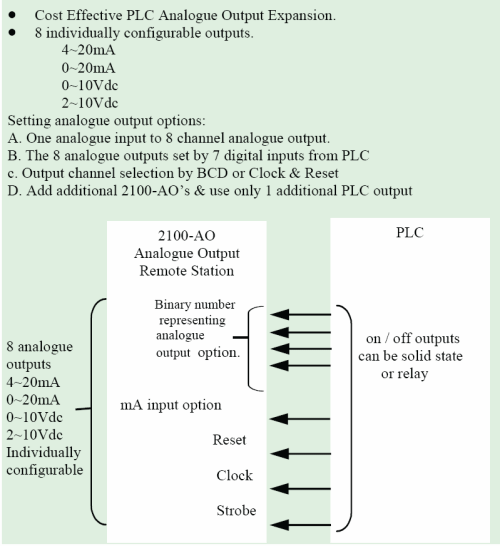 Terminals and Layout: