2100-D - Digital Input/Output Remote Station:
Product Specifications:
Download Installation Guide

Download Configuration Software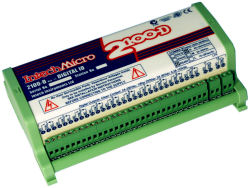 Features:
RS422/RS485 Up to 1200m
RS232 Cost Effective Radio Installation
RS232 Cost Effective PC IO Expansion
Selectable Baud Rates
Digital Inputs:

- State or Count
- Speeds to 500Hz

Easy Programming Via MicroScan Maps
Programmable Station Number
Scaled Rate Value Via MicroScan Recorder
Scaled Totaliser Value Via MicroScan Recorder
Programmable Relay States - NO or NC
Comms Failure Time-out Using Relay 12
Comms TXE and TX Delay Programming
Programming Information Retained on Power Down
Universal AC/DC Power Supply
Easy to Install
Compact DIN Rail Mount Enclosure
Description:
The 2100-D offers a high degree of flexibility for both the fully isolated Digital Inputs and Relay Outputs, which are configurable by the user friendly MicroScan Software.
Configuration of Digital Inputs include:
| | |
| --- | --- |
| (a) | On/Off state. |
| (b) | Flow metering. Pulses from flow or power meters etc, are accurately integrated into rate and totaliser values with virtually no loss of accuracy. |
| (c) | Counter function. Pulses are counted up to 16383 and the counter value reset. |
| | |
Relay Outputs include 10 with change over. Form C contacts, and 2 with normally open Form A contacts. The output state of the contacts are configurable, with all settings retained on power down. The 2100-D includes a communications failure alarm output, and supports communications via modem or radio.
Ordering Information:
| | |
| --- | --- |
| 2100-D-X | Standard Unit: 12 Digital Inputs and 12 Digital Outputs. RS485 Comms, 85~264Vac/dc Power Supply. |


Note 1: The RS232 Comms. version comes complete with a RS232 kit, required for connecting the
2100-D to a PC, etc. The kit contains: 1 x 5m RS232 cable; (2, 10 & 15m available.) 1 x 9pin D type (25pin D type available).
Note 2: The 2100-D is factory set to RS232 or RS422/485. The 2100-D-X is field selectable for RS422 or RS485, and H or M power supply.
Note 3: Power supply 'H' is field selectable for 'M'; and 'M' for 'H'. Power supply 'L' must be ordered separately.
Terminals and Layout: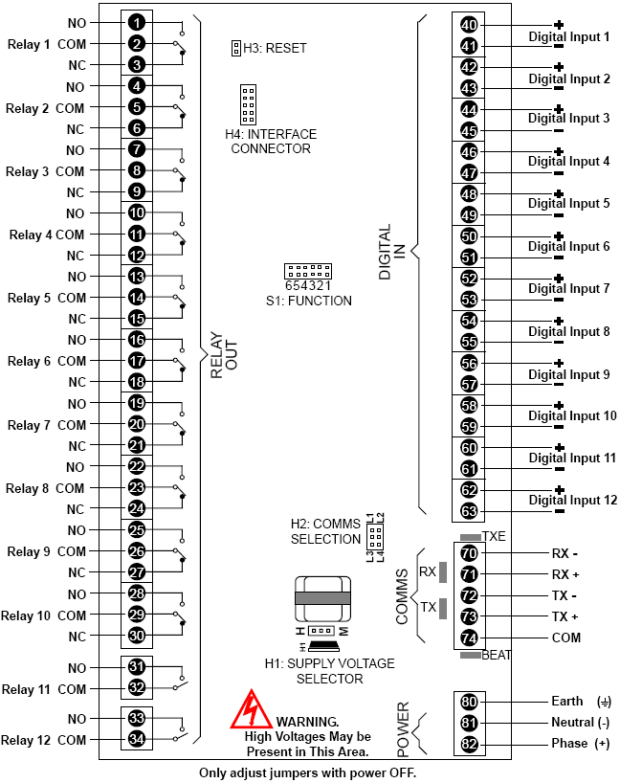 ---