2100-NS - RS232 to RS422/RS485 Converter, Non-Isolated:
Product Specifications: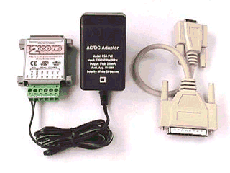 Features:
Easy to Install
LED Status Indications
Compact Interface Module
Low Cost
RS422 or RS485 Selectable
Complete with a 9/25D Serial Cable & AC/DC Adaptor
Description:
The 2100-NS is a compact interface Module that converts RS232 from a computer to RS422/485, for communication to a field data logging system. Its driver and receiver meet EIA standards RS-422-A and CCITT recommendations V.11 and X.27, and are designed for multipoint transmission on long bus lines in noisy environments. It includes thermal shutdown and over current limiting.
It is powered by an external AC/DC adapter, making it suitable for working with many types of PCs and PLC's. It comes complete with the AC/DC adapter, and a 200mm 25way to 9way adapter cable for the PC.
Note:
For Isolation Between Field Units & Computer, as well as Audible & Relay Alarms for Communication Failure; use the 2100-IS Isolating RS232 to RS485/422 Converter.
Ordering Information:
2100-NS
Non Isolated RS232 to RS422/485 Converter.
Supplied configured for RS485.
Accessories:
2100-IP
RS232 Cable for Parallel Connection of up to Four 2100-NS Converters.
2100-IB
Adaptor Kit for Boosting RS485.
Specifications: