2100-R2 - 16 Channel Relay Output Expander:
Product Specifications: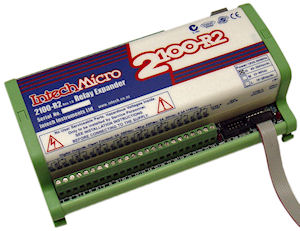 Information on the older 2100-R.
Features:
16 Digital, Isolated, Relay Outputs.
Cascade option for a second 2100-R2 (with 2100-A16).

Enables 32 Digital, Isolated, Relay Outputs.

Easy Programming Via MicroScan Maps.
Programmable Relay States - NO or NC.
Universal AC/DC Power Supply.
Easy to Install.
Compact DIN Rail Mount Enclosure.
Description:
The 2100-R2 16 Channel Relay Output Expansion Module is used in conjunction with the 2100-A16. This allows the 2100-A16 to stand alone as a 16 channel controller / alarm unit. The 2100-R2 relay outputs can be used for any combination of control and alarm functions. The control parameters for each of the 16 controllers are downloaded from the user friendly MicroScan Software, and stored in permanent memory on the 2100-A16. These parameters include Setpoint (SV), Switching Differential, Auto / Manual, Manual Output Setting, Dual Action Control, Single Action Control, Heat / Cool, Heat Only, Cool Only.
The 16 controller alarms will operate unaffected by computer power downs, reboots, etc. The relay outputs can also be accessed directly from the Scada. The 2100-R2 can also be used in conjunction with the 2100-A4 for general purpose alarms, generated by the Scada.
Ordering Information:
| | |
| --- | --- |
| 2100-R2-X | Standard Unit: 85~264Vac/dc Power Supply. |


Note 1: The 2100-R2-X is field selectable for H or M power supply.
Note 2: Power supply 'H' is field selectable for 'M'; and 'M' for 'H'. Power supply 'L' must be ordered separately.
Terminals & Layout: