USB485 - USB to RS485 Converter, Non-Isolated:
Product Specifications:

Download Installation Guide

Download USB485 Driver File - [Auto installed with MicroScan V5]

View USB485 Technical Settings Information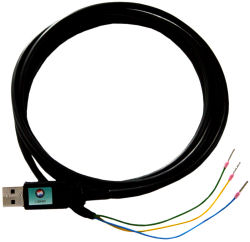 The Intech Micro USB485 is a compact interface module that converts USB to RS485, for communication to a field data logging system. The USB485 is ideal for use with a computer that does not have an RS232 serial port as it eliminates the need for a seperate USB to serial adaptor. Only use the USB485 for temporary monitoring situations; for industrial environments we recommend using a physical RS232 connection.
The device is powered from the computer USB powered port. Length = 3m.
Ordering Information:
| | |
| --- | --- |
| USB485 | USB to RS485 Converter |
Installation Instructions:
Install MicroScan V5 software before inserting the USB485 into a USB port on the computer. This will automatically install the correct USB driver which is needed for operating the USB485. Note that the computer USB port the USB485 is plugged into must be powered.
Please note that the USB485 is NOT isolated and electrical noise can lock the device. The USB485 is intended for office environments only and not when you have a computer located in a control panel. An isolated comms converter using a physical RS232 COM port should be used in such situations.
Wiring:
The Intech Micro USB485 has the same wiring number system as used in the Intech Micro I/O Remote Stations making the wiring of an Intech Micro system easy:
| | |
| --- | --- |
| Yellow | 70 |
| Blue | 71 |
| Green | 74 |
Technical Settings:
Please refer to our page on Technical Settings Information for the USB485.